Dear Visitor,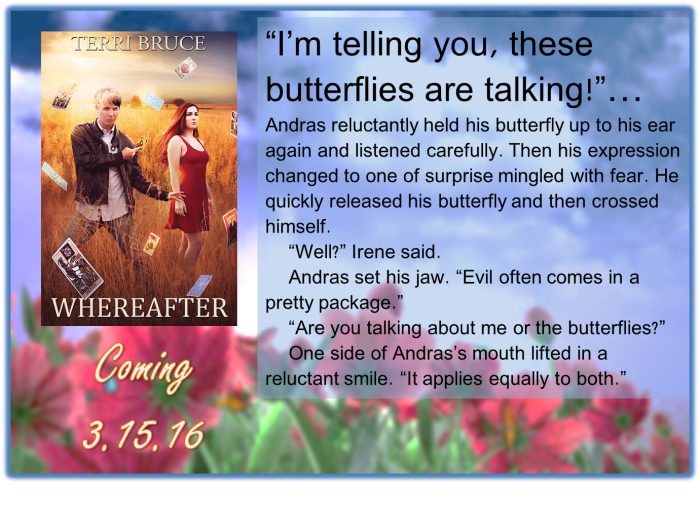 We are now a little less than one month away from the release of Whereafter (Afterlife #3)! If you haven't yet added it on Goodreads, you can do so here. Read on for a sneak peak of Whereafter, exclusive to my newsletter subscribers:

A sound caught Irene's attention—so soft that it took a moment for it to bubble into her consciousness. It was low and breathy, like whispering. Irene looked around, searching for the source.

"Do you hear something?" she asked Andras, who still walked several paces ahead of her.

Andras shook his head without looking at her. "No."

She had thought it was perhaps the butterflies' wings, but the sound seemed to get louder when she turned to the right. The butterfly was still sitting there on her shoulder. Irene put her ear up close to it. The sound, still too faint to be clearly made out, grew louder. The butterfly suddenly took off, its wings tickling the side of her face as it did so.

"Seriously, you don't hear anything? Like… voices?"

Andras stiffened and then cocked his head, listening hard. After a moment, he shook his head.

Irene, eyes narrowed, reached out and caught one of the butterflies between loosely cupped hands. It fluttered for a second then went still. She held it up so she could see it properly, peering at it between her fingers. Then she brought it closer, holding it up to her ear, and this time it was clear: the sound was coming from the butterfly. Irene gasped, her hands flying apart with surprise, releasing the captured butterfly. "It's the butterflies—they're talking!"

So, why butterflies? Well, Christian mythology sets out that butterflies are messengers of angels and God, and that seeing one means someone in Heaven is sending you a message/reassuring you that they are doing well. Christian mythology also says that you can tell your message to a butterfly and it will carry it to your loved one in Heaven.

Whereafter Release Celebrations
To celebrate the release of Whereafter, I will be having a month-long blog tour in April (with giveaways!), an in-person release party, and an online FB release party. Details about the first two events will be forthcoming, but you can RSVP for the online party here: https://www.facebook.com/events/1058688507505521

Hereafter Reviews

(image from

Dennis Lowery

)


I'm still working on getting Hereafter to 50 reviews on Amazon (for the above stated reason)—it's at 44 (just six more to go!)—and I could use your help:
If you've read Hereafter and haven't yet left a review on Amazon, please do so (even if you didn't like it! Honest/critical reviews are just as important as positive ones!).
If you haven't yet read Hereafter and would like to, let me know, and I'll send you an ebook review copy (epub or mobi) as a special thanks to you as a newsletter subscriber. The catch is that you have to leave a review on Amazon, though!
Please spread the word to other people you think might like my books that I'm giving away review copies of Hereafter to anyone willing to leave a review on Amazon. Have them email me at tbruce@terribruce.net. They should include in the email how they heard about the offer and mention coupon code: REFERhere2016
For anyone who is interested, I can send you a stack of Hereafter postcards and/or bookmarks to give out (to friends, acquaintances, your book club, your local library and bookstore, etc.). Just email me back with your mailing address and I'll send that out to you.
And, of course, I'm also working on having Thereafter hit 25 reviews on Amazon (it's at 7). So please be sure you've left a review of Thereafter on Amazon, too! (pick up a copy of Thereafter on Amazon)

Short Story Release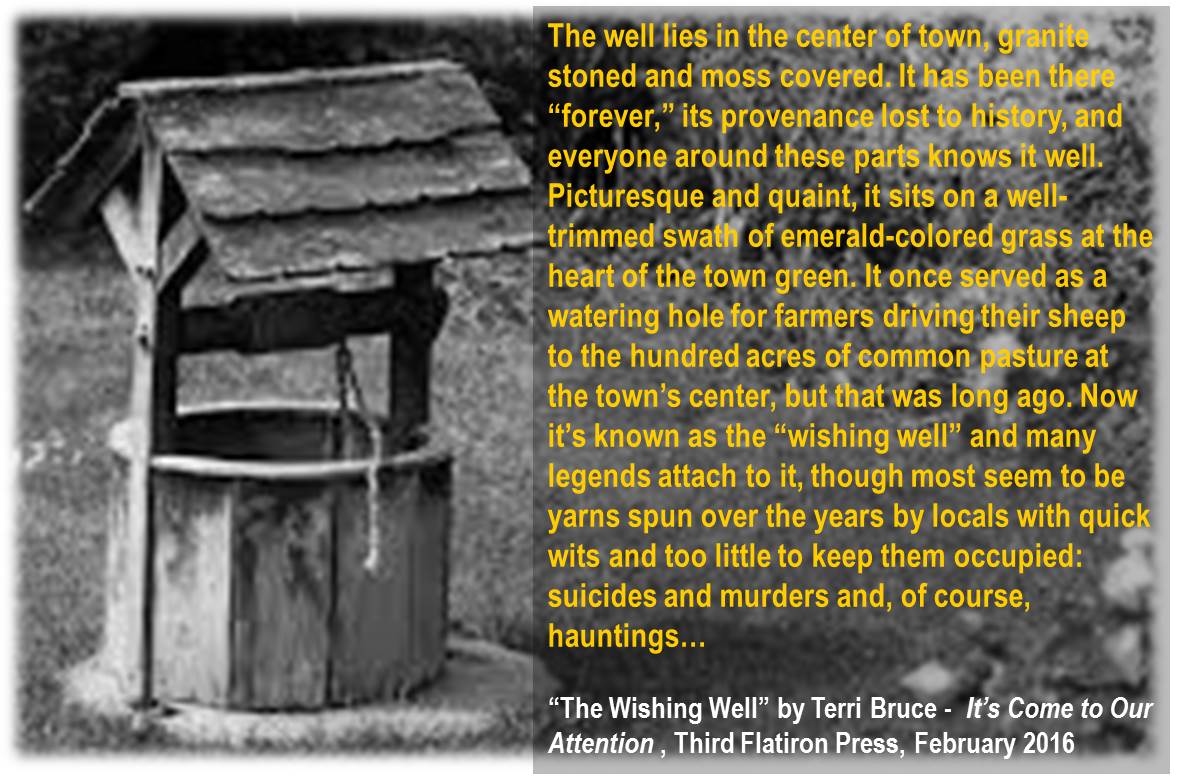 My short story "The Wishing Well" released today as part of Third FlatIron's "It's Come to Our Attention" anthology. Many people might be surprised to find that I write horror, but, in all honesty, I think most all of my stories contain a dark element—and certainly, are more likely to be on the darker side than to contain a happily ever after. You can buy "It's Come to Our Attention" in ebook format at Amazon, B&N.com, and other ebook retailers. The paperback version will be released in the next few months. And, of course, if you do read "It's Come to Our Attention," please leave a review! :-)