Dear Visitor,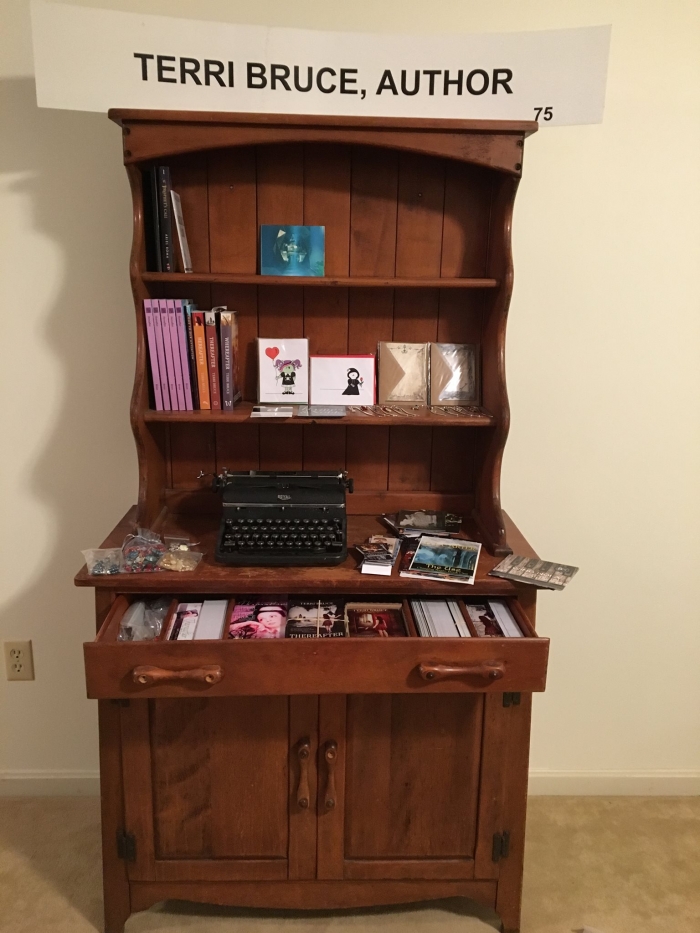 Since March, I've been busy house shopping, packing, moving, and unpacking. It's been exhausting, but seeing my new office come together makes it all worthwhile. I now have a dedicated space for all of my swag and giveaway prizes (pictured above). And an especially good omen, I found an old manual typewriter at an antique shop recently - I've wanted one of these for a long time (no author's office should be without one!).

I learned to type on a manual typewriter; when my mother let me have her (1970's style) electric typewriter, I thought it was the height of luxury - how easily the keys pressed (but with a gunshot report and a bit of press back against the fingers) and that wonderful bell that dinged at the end of every line. How I miss the days of the electric typewriter (though I wouldn't give up my delete key and copy/cut and paste for anything!). I love that scene in "You've Got Mail" where Greg Kinnear's character lovingly talks about his latest typewriter.

Now that we're all settled into our new home, it's time to get back into the swing of things. To that end, I have two new giveaways going on...

Spooktacular Blog Hop Giveaway

Now through Halloween, I'm taking part in the Spooktacular Blog Hop, along with over 100 other blogs each giving away a prize worth at least $10. For my giveaway we're talking about our favorite Halloween movies, and I'm giving away an adorable decorative Halloween cat ornament, a signed paperback copy of Hereafter, and an Afterlife Series swag pack. Stop by my blog to check it out (and be sure to visit as many of the other participating blogs as you can).

Thereafter Reviews

(image from

Dennis Lowery

)


At some point while I was moving, Hereafter reached 50 reviews on Amazon (woohoo!!! ::throws confetti::). Thank you all so much for helping me reach this important milestone. I'm still working on contacting the winners of the two $50 Amazon Gift Cards; as soon as I am able to reach them both, the winners will be announced.

So now, it's on to the next goal - getting Thereafter (Afterlife #2) to 25 reviews on Amazon (it's currently at 8 reviews). To that end, I've announced the Thereafter 25 Reviews Giveaway - when Thereafter reaches 25 reviews on Amazon, I will give away two $25 Amazon Gift Cards. You can find all the details of the giveaway on my blog, but, in short:
If you've read Thereafter and haven't yet left a review on Amazon, please do so (even if you didn't like it! Honest/critical reviews are just as important as positive ones!) (a refer on Goodreads and/or B&N.com is also much appreciated!)
If you haven't yet read Thereafter and would like to, let me know, and I'll send you an ebook review copy (epub or mobi) as a special thanks to you as a newsletter subscriber. The catch is that you have to leave a review on Amazon, though!
Please spread the word to other people you think might like my books that I'm giving away review copies of Thereafter to anyone willing to leave a review on Amazon. Have them email me at tbruce@terribruce.net. They should include in the email how they heard about the offer and mention coupon code: REFERthere2016
For anyone who is interested, I can send you a stack of Thereafter postcards and/or bookmarks to give out (to friends, acquaintances, your book club, your local library and bookstore, etc.). Just email me back with your mailing address and I'll send that out to you.
And, of course, I'm also working on having Whereafter (Afterlife #3) hit 10 reviews on Amazon, so please be sure you've left a review of Whereafter on Amazon, too!

As always, thanks for reading!

--Terri