Dear Visitor,

I feel like I'm singing the Twelve Days of Christmas as I draft this newsletter: 4 new releases, 3 important announcements, 2 holiday giveaways, and a partridge in a pear tree! I apologize that this newsletter is so long - I try to keep them short as I know your time is valuable - but I have a LOT of news to share. I've been very, very busy the last few months!

Myths and Magic Box Set Releases

IT'S HERE!!!


I'm thrilled to announce that my novella "Irene and the Witch" (Afterlife #3.5) has been released as part of the MYTHS AND MAGIC Box Set - an epic collection of 16 Sci-fi and Fantasy novels and novella, featuring several NYT and USA Today best-selling authors!

MYTHS AND MAGIC BOX SET DESCRIPTION There is adventure out there … if you're brave enough to risk it.

Explore worlds of darkness, danger, and magic in sixteen exclusive fantasy and science fiction novels and novellas, available for a limited time. There are tough choices to be made and dastardly villains to outwit in this breath-taking collection that will have you on the edge of your seat. Plucky heroes and devastating anti-heroes face off against demons, spirits, shifters, witches, and more in this limited-edition arrangement that features a satisfying combination of epic fantasy, science fiction, romance, urban fantasy, sword and sorcery, and more!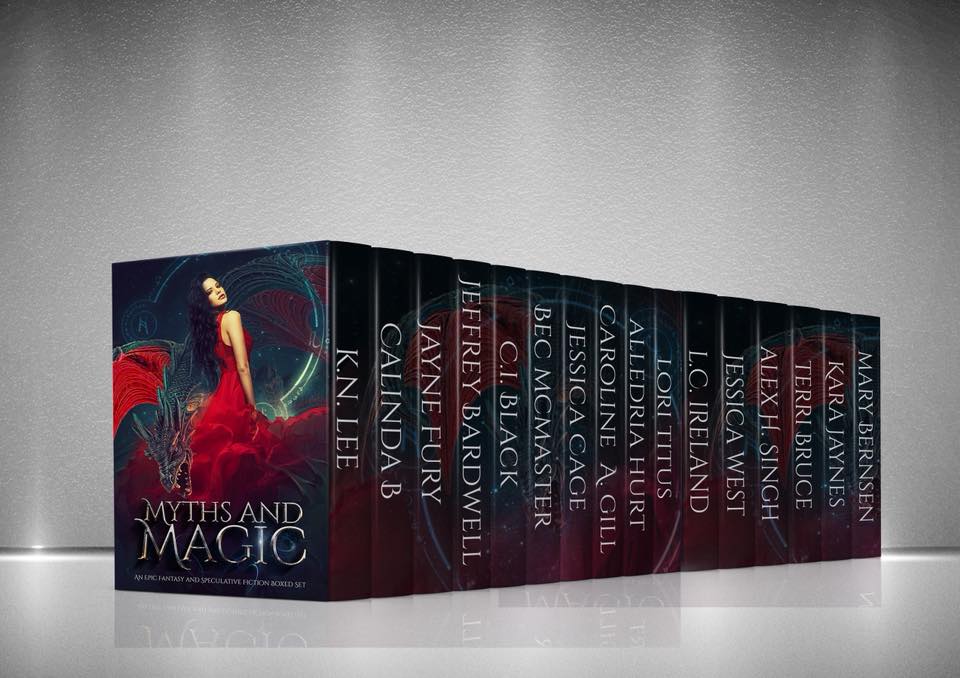 For those of you impatient for the next book in the Afterlife Series, my story in the MYTHS AND MAGIC Box Set is "IRENE AND THE WITCH" - a stand-alone piece from the forthcoming (April 2018) fourth Afterlife novel (Whenafter)!

IRENE AND THE WITCH DESCRIPTION

Party girl Irene Dunphy thought being dead was bad and being stuck in purgatory even worse, but when her attempts to return to the land of the living as a guardian angel are derailed by a soul-stealing witch, she quickly learns there are things even more terrible than death.

The MYTHS AND MAGIC Box Set is just $0.99 during release week (until 11/28) and then increases to $2.99.

I'm going to ask a favor of you today - this box set could make the USA Today best seller list if we sell 5,000 copies in the first week of release (between 11/21 and 11/28); so I'm asking you to please buy a copy (it's only 99cents!) and to also please share this announcement with at least five other people and ask them to buy a copy as well. The Best Seller tag attached to an author's name is a huge boost to their career - opening up doors and opportunities - plus it will mean increased visibility for the Afterlife Series as well.

New Short Story: Death and the Horse
My short story, "Death and the Horse" just released as part of the "Beautiful Lies, Painful Truths" anthology from Left Hand Publishers.

BEAUTIFUL LIES, PAINFUL TRUTHS DESCRIPTION

"Life asked Death, 'Why do people love me, but hate you?' Death responded, 'Because you are a beautiful lie, and I am a painful truth.' " ~Anonymous

There's an ironic beauty between humanity's love of Life and fear of Death. Life seemingly brings joy, happiness, hope, and love. Death can end sadness, illness, suffering, and pain. We asked writers to "Let the title and quote take your imagination, your story, wherever it wants to go." Join them now as an international blend of authors, both fresh and seasoned, bring you an exceptional menu of speculative fiction, mystery, realism, horror, and the supernatural. If your palate varies from the macabre to the dramatic, Beautiful Lies, Painful Truths provides an assortment of tasty treasures that will chill, delight, and give you food for thought.

About my story "Death and the Horse": The idea for this story came to me because of a jig-saw puzzle. I was working on one that featured the four horses of the apocalypse (super pretty puzzle - and challenging - by the way!). And oddly, while one of the horses was pictured as light gray on the box cover, it was a sort of greenish-gray on the puzzle pieces. And I decided to google "green horse" to find out if this was a misprint of the puzzle or just a trick of the light, and I came across articles talking about the description of the "pale horse" ridden by death in Revelations, and apparently in the original gnoptic texts, the word used for "pale" actually means a light green color (who knew???). So, I don't know if the jigsaw puzzle was being clever or just used a weird shade of gray that happened to look kind of gray-green, but that got me thinking about "the pale horse" ridden by death and next thing I knew, the story of Death's search for the perfect horse just sort of came to me. I envisioned Death as sort of a Terry Pratchett-esque bureaucrat / functionary and thought about the qualities Death's horse might need. My Death is not a monster and not war-like and doesn't revel in the end of life. He views it as a necessity, sometimes a relief/blessing. He's very stoic and matter-of-fact about it, and I decided his horse would need those same qualities. From there, it was just a matter of doing some research on various famous horses in history—I wanted to make sure I pulled from a diverse group of stories and myths—and building a story around them. As with all of my stories, the final product combines humor with a touch of melancholy and existential exploration. I hope you enjoy it!



Whenafter (Afterlife #4) Update

I'm in the final stretch of drafting the fourth book in Irene's adventures through the afterlife and the cover artist (the amazing Shelby Robinson) is working on the cover art. I'm hoping to have ARC copies available in February and the release date is tentatively planned for April 2018. Stay tuned - more details coming soon!


Gratitude Giveaway Hop

I'm giving away a signed copy of Chicken Soup for the Soul: Step Outside Your Comfort Zone (which has my short non-fiction piece, "A Night in Philly" about a time I did something very out of character and had a grand adventure because of it!), a handmade cowl, and a $5 Starbucks gift card. Over 50 bloggers and authors are giving away a variety of prizes; be sure to visit them all! Visit my website at http://www.terribruce.net to enter.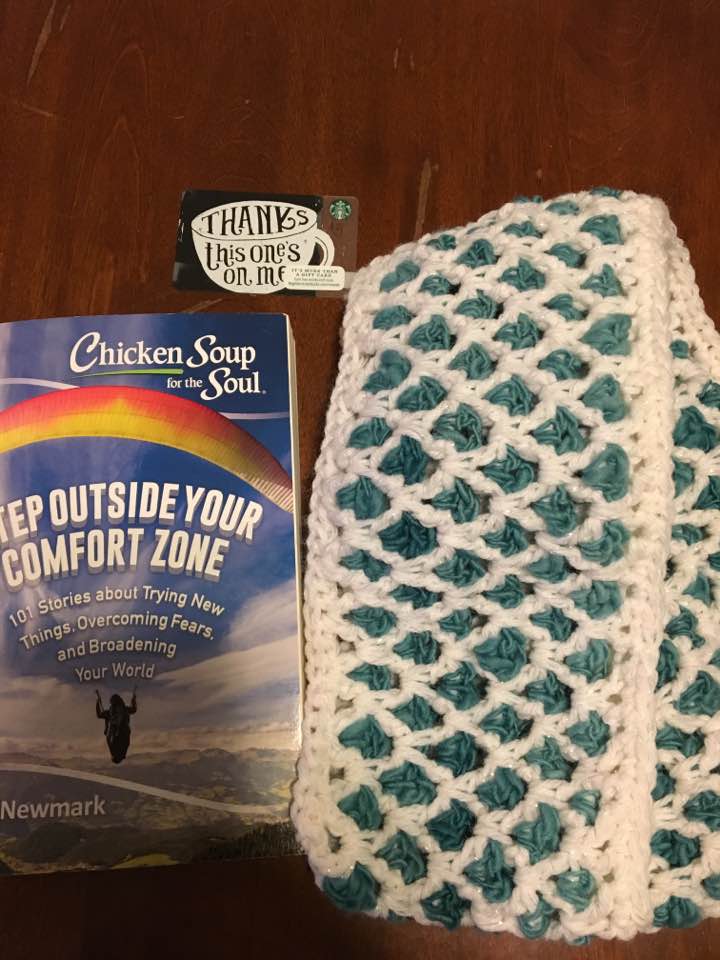 Giveaway ends 11/30/17.

(don't forget, I typically feature at least one giveaway per month on my website, so be sure to stop by often to see check out the latest prize offering!)


Black Friday Book Bonanza Giveaway Hop

This is a blink and you miss it giveaway! Friday 11/24 through Monday 11/27 I'll be participating in the Black Friday Book Bonanza Giveaway Hop hosted by Reading Reality. Over 35 authors and bloggers will be giving away books and book-related items (such as Amazon gift cards). You don't want to miss this one! I'll be giving away the winner's choice of any TWO of my books or the anthologies I'm in (choose two from: Hereafter, Thereafter, Whereafter, Dear Robot, It's Come to Our Attention, or Beautiful Lies, Painful Truths). This giveaway is INTERNATIONAL to anywhere that the Book Depository ships! So be sure to swing by my website/blog (terribruce.net) between 11/24 and 11/27 to enter!

Giveaway ends 11/27/17.



Forthcoming Short Stories
I'm excited to announce:
My short fantasy story, "My Lover Like Night," (a mash-up of The Lady of Shalott and Rapunzel with a dark fantasy twist), has been accepted to "Behind the Mask," a forthcoming anthology from MiFi Writers (releasing in late 2017/early 2018; more details to come).
My flash fantasy story, "The Tower" (originally published by Zoetic Press as part of Non-Binary Review #8: 1001 Arabian Nights) will be part of an upcoming edition of The Centropic Oracle Podcast (specific date TBA).

GenreBUZZ Sci-Fi and Fantasy Books Sales Splash
HEREAFTER (Afterlife #1) is part of 24 science fiction and fantasy books being highlighted by GenreBUZZ now through December 15th. Check out the promo page to find some great new books for yourself or to gift as presents!



Upcoming Appearances

Saturday, November 25th - I'll be at the Cold Comfort Theater Craft Fair in Belfast, Maine (at the high school) selling copies of Hereafter and Thereafter

Saturday, December 2nd - I'll be at the Somersworth NH Festival Association Craft Fair in Somersworth, NH (at the high school) selling copies of Hereafter and Thereafter

Details of my upcoming appearances are on my Facebook Fan Page in the "Events" section and on my website (terribruce.net).


Author Visit Program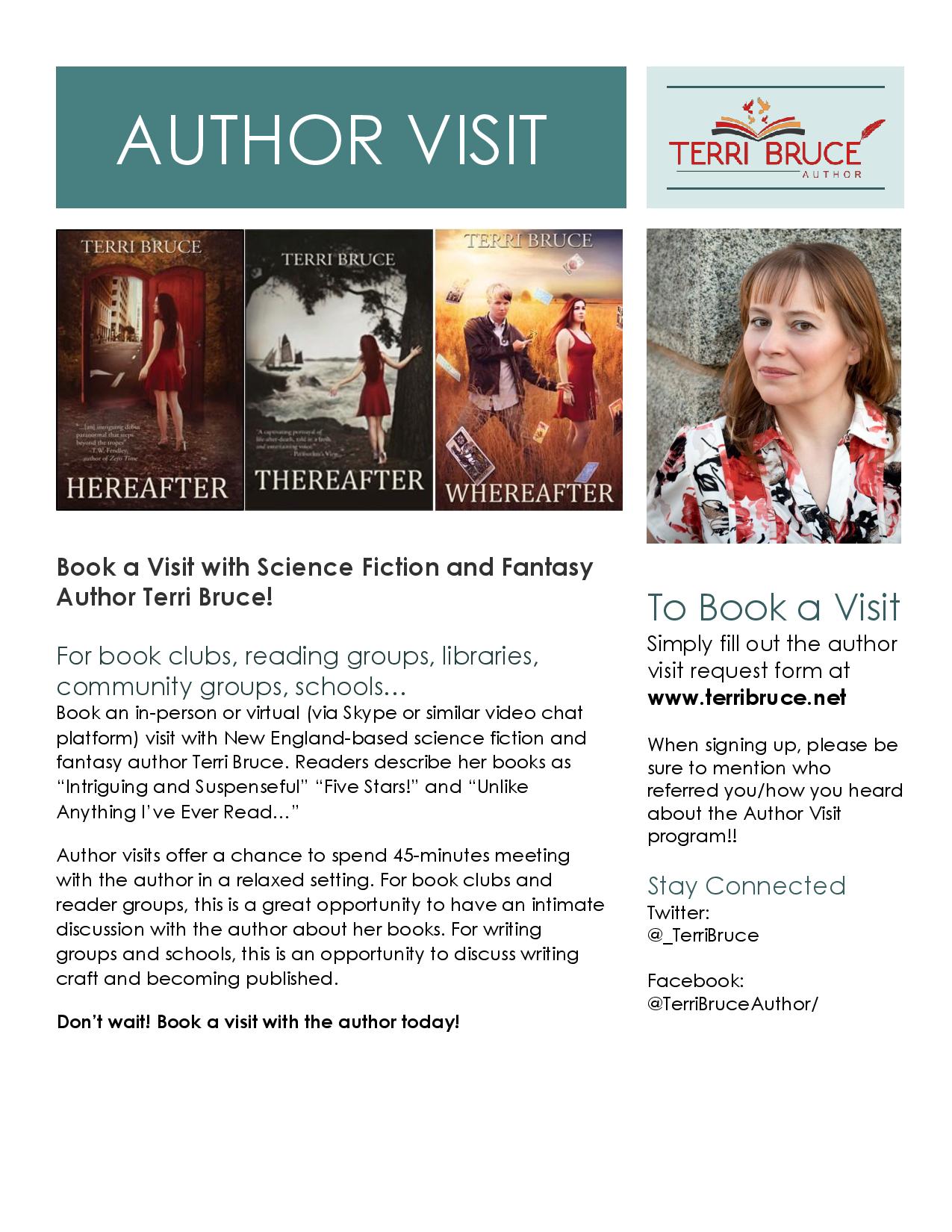 Just a reminder, am available to meet with book clubs, community groups, schools, and writing groups - at no cost - through my Author Visit Program.

I love connecting with fans and readers, and this program gives me the ability to meet with smaller, more intimate groups in informal settings. I also think it's important to give back to the community of writers coming up behind me by sharing my experience as a writer and author, as was done for me when I was "coming up through the ranks," and I love that this program provides an opportunity to do that.

To learn more about the Author Visit Program - and to book a visit (don't be shy!) - visit the Author Visit Program page on my website.


And that, as they say, is all the news that's fit to print. As always, thanks for reading!

--Terri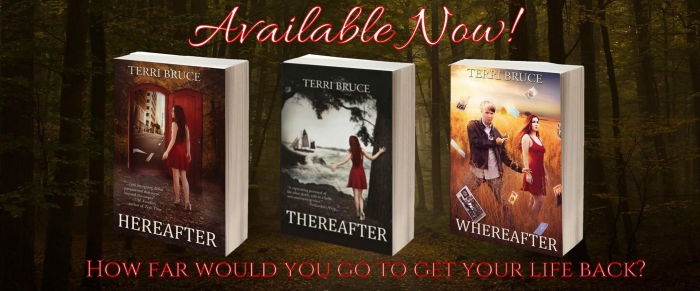 Terri Bruce is the author of the paranormal/contemporary fantasy "Afterlife" series, which includes Hereafter (Afterlife #1) and Thereafter (Afterlife #2), as well as numerous short stories in various anthologies. She has been making up adventure stories for as long as she can remember. Like Anne Shirley, she prefers to make people cry rather than laugh, but is happy if she can do either. She produces strange, hard to classify fantasy and science fiction stories from beautiful Downeast ME, where she lives with her husband and various cats. Visit her on the web at www.terribruce.net.
Follow Me On Facebook
|
Follow Me On Twitter