Dear Visitor,

Well, they say it's spring but I'm not seeing it. Winter is like that guy in Monty Python who keeps saying, "I'm not dead!" as they cart him away. Go on winter, shoo!

The good thing about the crummy weather is that I can't get distracted from writing by gardening, hiking, and general outdoorsyness; Whenafter is getting a final editing pass and then will be off to the beta readers. I'm so excited to share Whenafter with you - I wrote one of the pivotal scenes EIGHT YEARS ago, when I was first writing Hereafter (I mapped out the entire six book series from the beginning so, never fear, I knew where this series was going from the get-go. I hate it when a show/series pulls you in and then goes off the rails because they didn't know how to "get out" of the plot corner they wrote themselves into.

I really, really want to share this scene with you... okay, you twisted my arm. I'm gonna do it. But, for those who are spoiler adverse, I'm going to put the sneak peak scene at the bottom of the newsletter so if you don't want to see the spoiler, you can avoid it.

In the meantime, read on for all the other tidbits I've been up to...


Free Books!


If you didn't get a chance to grab a copy of the Myths and Magic Boxed set (which is no longer for sale), good news! You can now get a copy of Irene and the Witch (Afterlife #3.5), a stand-alone excerpt from the forthcoming Whenafter (Afterlife #4), as an e-book by itself.

You can download a copy for free from Book Funnel (use the link to the 1st in Fantasy free book promo below) or from Instafreebie or, if you are feeling charitable and want to throw me a buck, you can get a copy for $0.99 from Amazon.

IRENE AND THE WITCH DESCRIPTION

Party girl Irene Dunphy thought being dead was bad and being stuck in purgatory even worse, but when her attempts to return to the land of the living as a guardian angel are derailed by a soul-stealing witch, she quickly learns there are things even more terrible than death.


Irene and the Witch is being offered currently as part of a group promo, so while you're snagging your copy, please check out the other free books available as well!

March 21 - April 21
24 different fantasy books featuring demons, vampires, witches, shifters and more!

The Lady and the Unicorn Now Available
My short fantasy story, "The Lady and the Unicorn," (a feminist, unicorn-bikers homage to Frank Burton's "The Lady or the Tiger") is now available as part of Spring Song Press's "Fell Beasts and Fair" anthology - available now wherever paperbacks and ebooks are sold.

This story came to me during the winter of 2015 - that terrible winter where, in New England, we got a storm every three days that would drop 1-3 FEET of snow on us. At one point, I had 9 feet of snow in my backyard and the snowbanks were so high I couldn't shovel a path to my car.

I've always loved "The Lady or the Tiger" - a wonderful short story by Frank Burton, and I love mythology so the story just ended up coming together as I hiked through the snowy woods one day that winter, wondering when spring would arrive. I thought, "What if it never comes?"

The story was originally sold to a different anthology in 2015 that never released (not uncommon in publishing). I'm thrilled that I was able to resell the story elsewhere so that it can finally be available for the first time. This is the first short story I ever sold, and it carries a special place in my heart.

I hope you enjoy reading this story as much as I enjoyed writing it!


Chance to Win a $350 Amazon Gift Card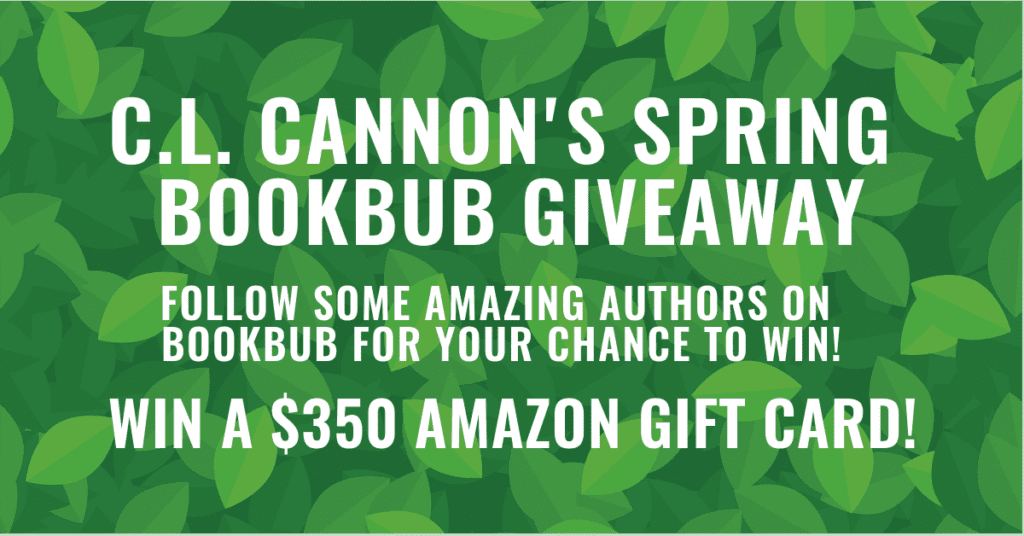 Want a chance at winning a $350 Amazon Gift Card? If you are a BookBub user, all you have to do is follow the various authors in this giveaway on BookBub (me included!). Giveaway ends April 20th!


A Favor...
Do you have a couple of minutes to fill out a survey? I'm working on a new, top secret special project and need to get some information on people's reading habits and interests to put the finishing touches on the project (which I hope to announce in next month).
Forthcoming Short Stories
I'm excited to announce:
My flash fantasy story, "The Tower" (originally published by Zoetic Press as part of Non-Binary Review #8: 1001 Arabian Nights) will be part of an upcoming edition of The Centropic Oracle Podcast (specific date TBA).
An as yet untitled Sci-Fi Romance story will be part of an untitled Paranormal Romance boxed set releasing this fall. Stayed tuned for details!


Connecting with Me

The best way to get random weird tidbits, funny stories, alerts about flash giveaways and contests, and my upcoming, spur-of-the-moment appearances is to follow my Facebook Fan Page or to join the Terri Bruce Afterlife Angels Facebook Group. However, if you follow the Fan Page, you will need to go in and like several of the posts to get my posts to start showing up in your timeline.

The best way to learn about my scheduled appearances and monthly giveaways and major news/announcements is to subscribe to this newsletter or follow my website/blog via RSS, BlogLovin', or Google+.

The best way to just hang out and be random is Twitter (@_TerriBruce) or the Facebook Fan Group.


Author Visit Program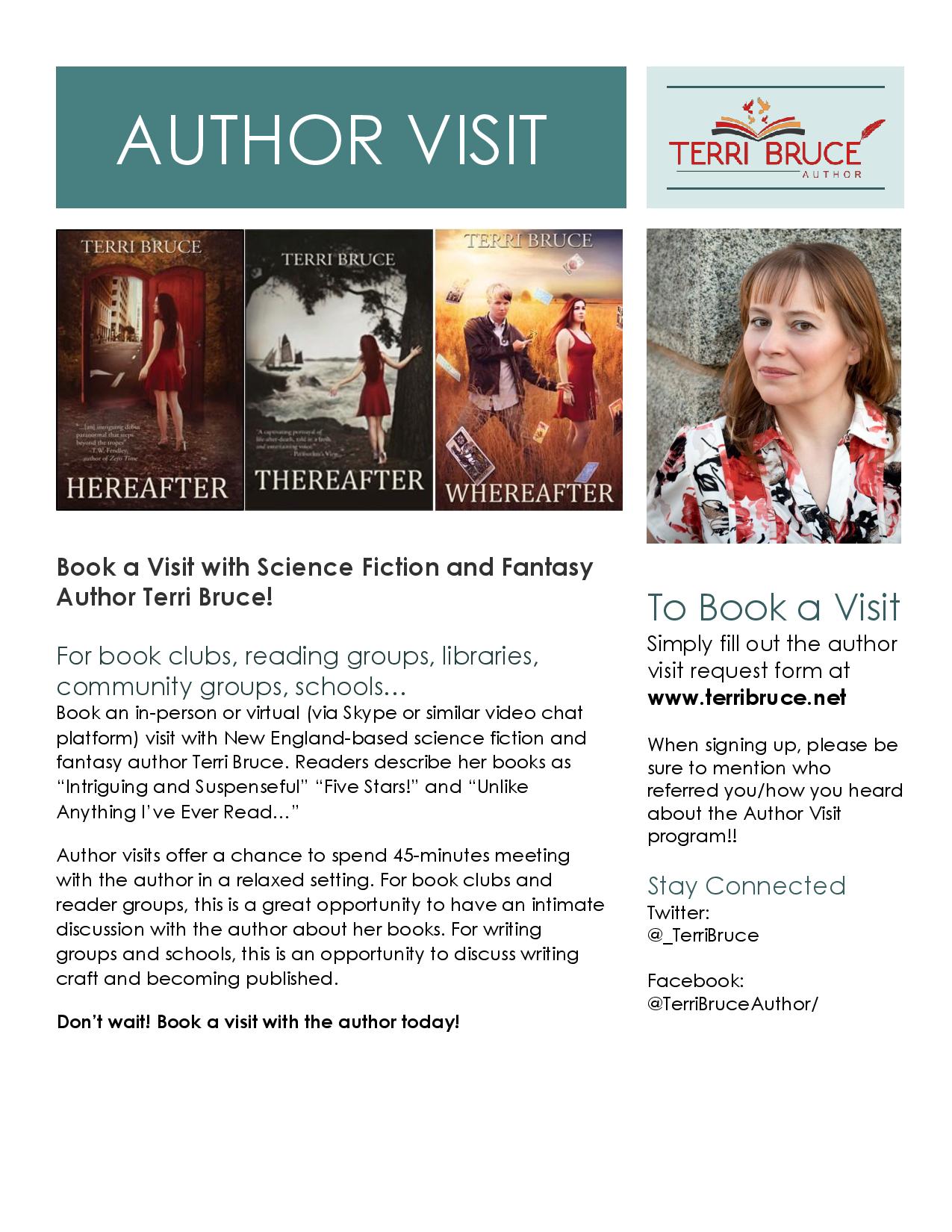 I am booking virtual author visits for April and beyond - please click on the link below to learn more. But, the short version is:

a) there's no cost - this is FREE
b) it's virtual - using cloud-based video chat software such as Zoom, Go To Meeting, or Skype - so you can live anywhere in the world and still book an author visit
c) author visits can be to groups of fans/readers and book clubs to discuss my books or it can be to schools and writer programs to discuss writerly topics, getting published, etc.

So, if you'd like me to visit with your reader group, book club, school, or writers' group, click the link below and schedule a visit!

To learn more about the Author Visit Program - and to book a visit (don't be shy!) - visit the Author Visit Program page on my website.

And that, as they say, is all the news that's fit to print. As always, thanks for reading!


P.S. I do occasional purges of my newsletter list to get rid of those who don't open the newsletter as I have to pay based on my number of subscribers. If you read this email in preview mode only then it doesn't show up as an "open"/read. Please occasionally open the email fully to be marked as a reader so that you don't accidentally get unsubscribed.

--Terri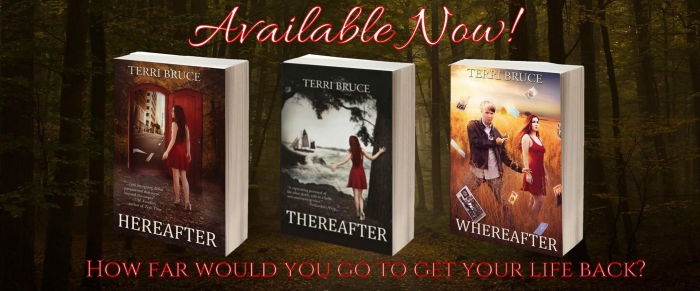 Terri Bruce is the author of the paranormal/contemporary fantasy "Afterlife" series, which includes Hereafter (Afterlife #1) and Thereafter (Afterlife #2), as well as numerous short stories in various anthologies. She has been making up adventure stories for as long as she can remember. Like Anne Shirley, she prefers to make people cry rather than laugh, but is happy if she can do either. She produces strange, hard-to-classify fantasy and science fiction stories from beautiful Downeast ME, where she lives with her husband and various cats. Visit her on the web at www.terribruce.net.
Follow Me On Facebook
|
Follow Me On Twitter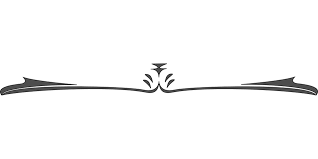 Whenafter (Afterlife #4) Excerpt

As promised, here is a sneak peek of my favorite scenes from the forthcoming Whenafter (Afterlife #4). I hope you enjoy it!


WARNING! SPOILERS AHEAD!



* * *

Something brought Irene awake. She sat up with a reflexive gasp, not even sure what had startled her, then let out a small yelp as she realized there was someone—a young man—sitting on one of the fallen logs only a few feet from her. Her cry brought Andras into view, his sword flashing out in an instant, its tip coming to rest at the intruder's throat, just under his left ear.

The young man sat still, his hands clasped between his knees, appearing unperturbed by the sharp point pressing into his jugular. His pale blue-green eyes, fixed on her with an intent look, flashed with amusement—very likely at the look on her face—as he said, with the barest of nods towards Andras, "Who's this?"

At that same moment, she recognized the visitor, and in one fluid motion, she threw off the jacket-blanket, jumped to her feet, and threw herself at Andras, pushing the sword away. "No! Don't! It's Jonah!"

WHENAFTER (AFTERLIFE #4)
Coming Summer 2018

* * *