Old Book Monday - June 4
Blog -
Random Thoughts on Reading
Written by Terri Bruce
Monday, 04 June 2012 00:00
---
Quite a few book bloggers participate in a weekly meme in which they share delicious and mouth-watering pictures of the new books they have recently received. I love strolling through the blogosphere and checking out these pictures. I don't buy a lot of new books but realized I could still participate by sharing pictures of what I do buy a lot of—OLD books. Hence, "Old Book Mondays"
---


This week's "Old Book Monday" features another one of my most treasured acquisitions: "Just Folks" by Edgar Guest (1917). I found this slim volume of poetry at Antiques USA in Arundel, Maine--which, by the way, if an absolute MUST VISIT if you like antiques, flea markets, and the like.




I had never heard of Edgar Guest and am only an indifferent admirer of poetry--I find occasional poems that spark my interest/admiration, but these are usually discovered by accident, rather than by purposeful design. However, as I was browsing the store, I happened to see this slim, pristine condition volume sitting on a shelf under some plates and glassware. Curious, I picked it up.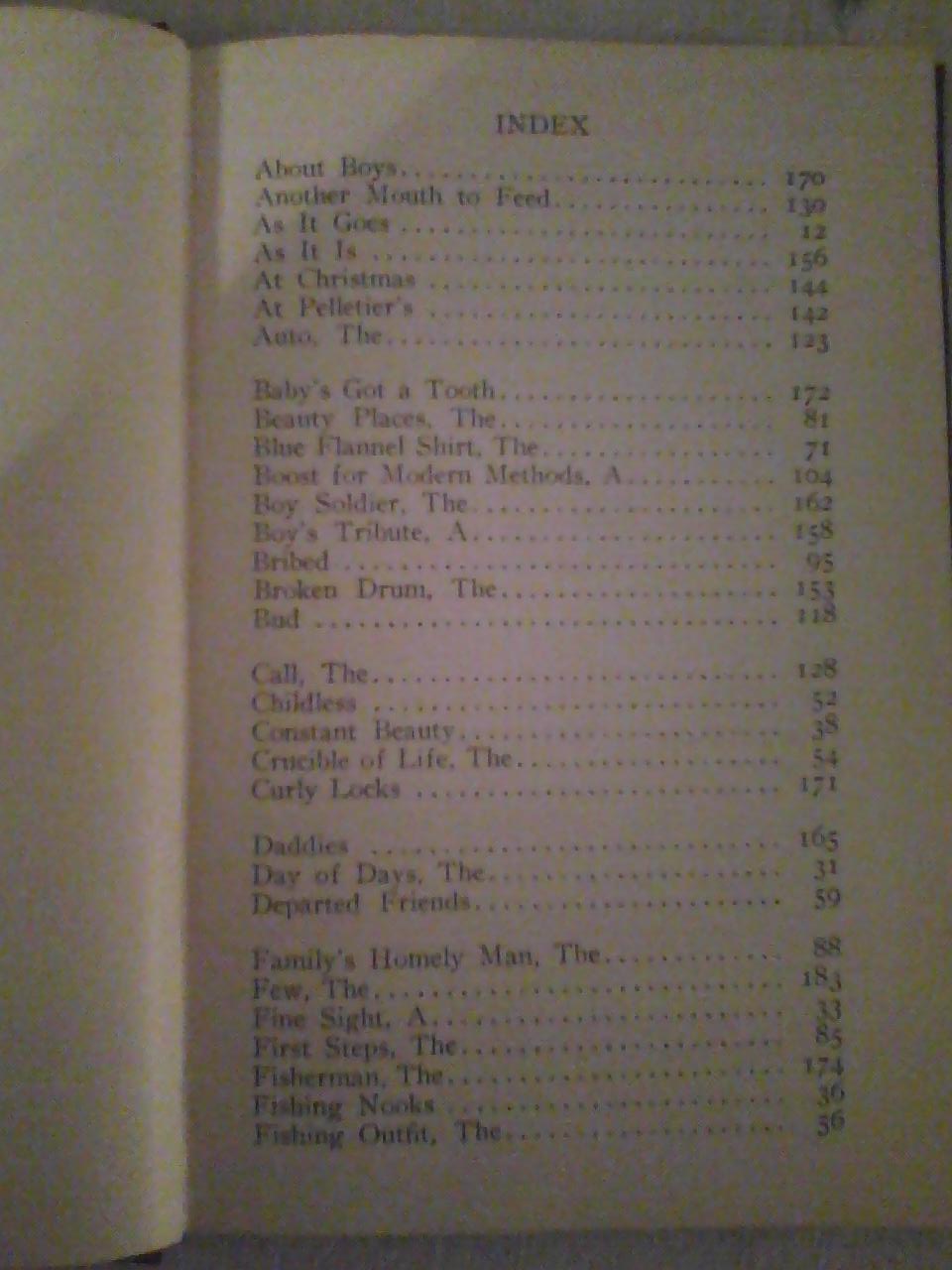 As I thumbed through it, I was instantly taken with the gloriously folksy tone of the poems--these were just the sort of poetry that my grandmother would have loved, would have clipped from the newspaper or a magazine and stored in her desk, to pull out and share when their wisdom was needed (and co-incidentally this book was published the year my grandmother was born).

A little research revealed that Edgar Guest was actually a well known and popular figure in his time and had a successful career spanning forty years, 11,000 poems (that's not a typo!), more than 20 books, and a radio program. Guest's poems have been described as "sappy" and "sentimental" but I love them! Here are my two favorites:

The Man to Be
Some day the world will need a man of courage in a time of doubt,
And somewhere, as a little boy, that future hero plays about.
Within some humble home, no doubt, that instrument of greater things
Now climbs upon his father's knee or to his mother's garments clings.
And when shall come that call for him to render service that is fine,
He that shall do God's mission here may be your little boy or mine.

Long years of preparations mark the pathway for the splendid souls,
And generations live and die and seem no nearer to their goals,
And yet the purpose of it all, the fleeting pleasure and the woe,
The laughter and the grief of life that all who come to earth must know
May be to pave the way for one--one man to serve the Will Divine
And it is possible that he may be your little boy or mine.

Some day the world will need a man! I stand beside his cot at night
And wonder if I'm teaching him, as best I can, to know the right.
I am the father of a boy--his life is mine to make or mar--
And he no better can become than what my daily teachings are;
There will be need for someone great--I dare not falter from the line--
The man that is to serve the world may be that little boy of mine.

Perhaps your boy and mine may not ascend the lofty heights of fame;
The orders for their births are hid. We know not why to earth they came.
Yet in some little bed to-night the great man of to-morrow sleeps
And only He who sent him here, the secret of his purpose keeps.
As fathers then our care is this--to keep in mind the Great Design.
The man the world shall need some day may be your little boy or mine.


This next one I read at my mother's funeral; I thought it a lovely reminder that as much as we might sorrow at her passing, it wouldn't do to become so lost in our grief that we forget those who really need us:


The Pathway of the Living
The pathway of the living is our ever-present care.
Let us do our best to smooth it and to make it bright and fair;
Let us travel it with kindness, let's be careful as we tread,
And give unto the living what we'd offer to the dead.T

he pathway of the living we can beautify and grace;
We can line it deep with roses and make earth a happier a place.
But we've done all mortals can do, when our prayers are softly said
For the souls of those that travel o'er the path-way of the dead.

The pathway of the living all our strength and courage needs,
There we ought to sprinkle favors, there we ought to sow our deeds,
There our smiles should be the brightest, there our kindest words be said,
For the angels have the keeping of the dead.

The hopeless romantic in me loves the idea that one's name and fame can pass away to suddenly be rediscovered by future generations through happy accident. I would be very happy, indeed, if some day, nearly a hundred years from now, someone counted one of my books as among their most treasured possessions.

What about you? Have any recent book acquisitions you want to share?


For even more book love, visit some of the sites participating in any of the following "weekly book haul" memes:


-Stacking the Shelves - hosted by Tynga's Reviews
-Unpack This - hosted by Mostly Reveiws
TrackBack URI for this entry
Comments
(1)
Subscribe to this comment's feed
...
written by Barbara Ann Wright , June 04, 2012
Right now I'm only reading Star Trek books for some reason, maybe because it's pretty far away from the fantasy I'm trying to write. Some of them are just so deliciously cheesy.
report abuse
vote down
vote up
Write comment