Today, I'm over at Michelle Hauck's blog talking about how a book's cover art can affect its marketing. Be sure to enter the raffle/giveaway while you're checking out my guest post - two $50 Amazon gift cards and 5 signed print copies of Thereafter up for grabs. Then stop by 3 Partners in Shopping: Nana, Mommy, and Sissi, Too! and be sure to leave a comment for another entry to the giveaway.


Be sure to check out the

Thereafter Blog Tour Home Page

to see all the cool things happening to celebrate the release of

Thereafter

!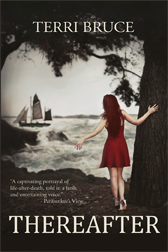 Nothing in life is free. Turns out, nothing in the afterlife is, either.
When recently-deceased Irene Dunphy decided to "follow the light," she thought she'd end up in Heaven or Hell and her journey would be over.
Boy, was she wrong.
She soon finds that "the other side" isn't a final destination but a kind of purgatory where billions of spirits are stuck, with no way to move forward or back. Even worse, deranged phantoms known as "Hungry Ghosts" stalk the dead, intent on destroying them. The only way out is for Irene to forget her life on Earth—including the boy who risked everything to help her cross over—which she's not about to do.
As Irene desperately searches for an alternative, help unexpectedly comes in the unlikeliest of forms: a twelfth-century Spanish knight and a nineteenth-century American cowboy. Even more surprising, one offers a chance for redemption; the other, love. Unfortunately, she won't be able to have either if she can't find a way to escape the hellish limbo where they're all trapped.
Add it on Goodreads
|
Buy It On Amazon
|
Buy It On Barnes and Noble
And if you haven't yet read Hereafter, the first book in the series, get it at Amazon or Barnes and Noble - the ebook version is only $1.99!
Why let a little thing like dying get in the way of a good time?
Thirty-six-year-old Irene Dunphy didn't plan on dying any time soon, but that's exactly what happens when she makes the mistake of getting behind the wheel after a night bar-hopping with friends. She finds herself stranded on earth as a ghost, where the food has no taste, the alcohol doesn't get you drunk, and the sex...well, let's just say "don't bother." To make matters worse, the only person who can see her—courtesy of a book he found in his school library—is a fourteen-year-old boy genius obsessed with the afterlife.
Unfortunately, what waits in the Great Beyond isn't much better. Stuck between the boring life of a ghost in this world and the terrifying prospect of three-headed hell hounds, final judgment, and eternal torment in the next, Irene sets out to find a third option—preferably one that involves not being dead anymore. Can she wipe the slate clean and get a second chance before it's too late?
Add it on Goodreads
|
Buy It On Amazon
|
Buy It On Barnes and Noble