Hugs and Kisses Giveaway Hop
Welcome to the Hugs and Kisses Giveaway Hop
February 2-16, 2016
We're celebrating Valentine's Day with a blog hop! Visit all of the participating bloggers listed below and enter to win sweet prizes on each blog! Every blog is hosting a different giveaway - each with a prize worth at least $25.
I love Valentine's Day - I mean, how can you not love a holiday that is a celebration of all things chocolate?! I'm very lucky that my husband is incredibly romantic so I always have a lovely Valentine's Day. My dad is a big romantic, too, and one of my favorite memories growing up was my dad bringing my mother a dozen roses every Valentine's as well as a small box of chocolates or a rose for both me and my sister. My uncles used to each give my grandmother (their mother) one of the fancy, heart-shaped boxes of chocolates on Valentine's Day, and I think there was a competition among them to see who could give her the fanciest box. My grandmother kept all those empty boxes - "They're too pretty to throw away," she'd always say. We never did find a use for them and they ended up getting tossed out when she moved to a nursing home (anyone know a good re-use for them???).
Did you know, however, that Valentine's Day overlaps with the ancient Roman festival of Parentalia (February 13th-21st),  Parentalia is a ceelebration/commemeration of the dead - specifically dead family members. It was a time to cook their favorite foods and to go to the cemetery and clean off the graves (similar to American Memorial Day). So, to celebrate both these holidays, I'm giving away an awesome little swag pack which has a hand-made bookmark, SIGNED Hereafter and Thereafter swag, and this set of these adorable notecards from One Moon Cupcake on Etsy, plus a $10 Amazon Gift Card. I've made my giveway international. Good luck!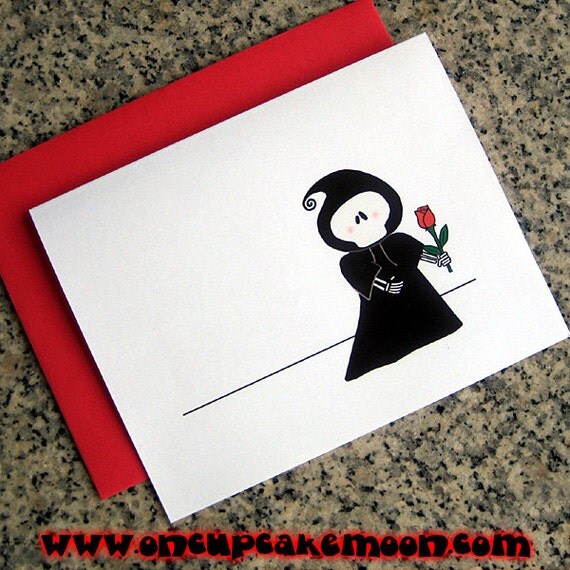 While you're here, stop and take a look around - I've got a few other giveaways going on and some exciting events coming up. Plus, the e-book of HEREAFTER, the first novel in my Afterlife series is on sale on Amazon for only $0.99!
---
TERRI BRUCE writes science fiction and fantasy stories with a literary bent from a haunted house in New England where she lives with her husband and three cats. The first two books of her contemporary fantasy AFTERLIFE series are available in e-book, paperback, and audio book wherever books are sold. Look for the third book, Whhereafter (Afterlife #e), coming March 15, 2016.
---